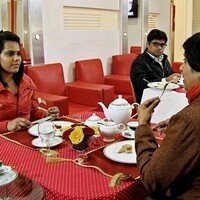 India and Indianisms: Documentary Master Classes
Tuesday, January 23, 2018 at 3:30pm to 5:00pm
Building E15, Open area outside E15-320
20 AMES ST, Cambridge, MA 02142
Anandana Kapur, Fulbright Fellow at the MIT Open Documentary Lab
Enrollment: Unlimited: No advance sign-up
Attendance: Participants welcome at individual sessions
Come attend screenings of documentary films followed by discussions on a few things that define India today – love, innovation and spies. We will also talk about approaches to documentary filmmaking, behind the scenes choices and DIY tips for those who want to make a film of their own. Anandana Kapur is an award winning filmmaker from India whose works have screened in over 35 countries. She also teaches courses on documentary practice, gender and rights based media.
The last workshop of this screening series will showcase excerpts from works in progress. A key focus will be on how documentary aesthetics can shape conversations for change. Some of the suggestions may shape the trajectory of future works!
Ps: Bring some coffee, popcorn or a friend…or two.
Sponsor(s): Comparative Media Studies/Writing
Contact: Anandana Kapur, anandana@MIT.EDU
Much Ado About Knotting
Tuesday, January 9
3:30PM-05:00PM
Are matches made in heaven or via multi-million dollar enterprises?
Jasoosni: Look who's watching you!
Tuesday, January 16
Is that a friend from a gym or an undercover spy?
The Great Indian Jugaad; Conversations
Tuesday, January 23
The Great Indian Jugaad: MIT loves hacks, India adores Jugaad!
Conversations: Stories by the "Invisible" Women of Delhi
Events By Interest

Events By Audience

Events By School
Department

Add to my calendar